Providing waxing services for both men and women, at WAXmd, our waxing salon sticks to a careful process that uses hard wax for a less painful waxing experience. The result is beautiful, hair-free skin every time! Contact us today to set up your waxing appointment and check out these reasons why it's time to skip shaving and go to waxing.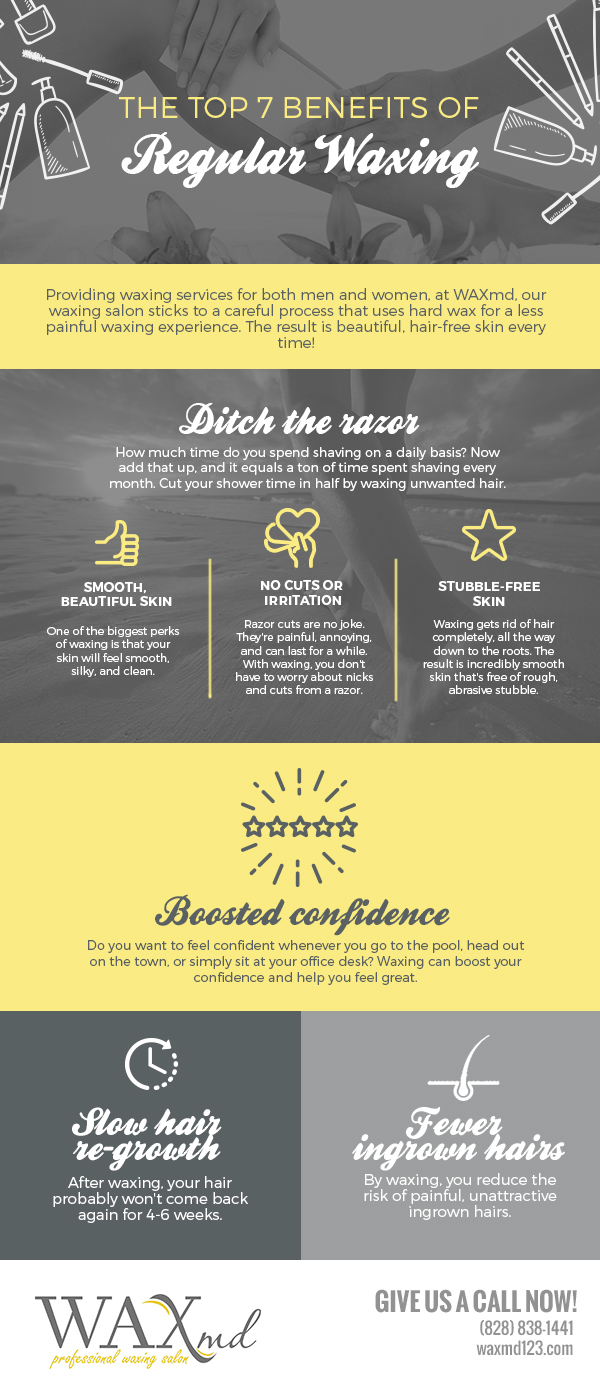 1.   Ditch the razor—How much time do you spend shaving on a daily basis? Now add that up, and it equals a ton of time spent shaving every month. Cut your shower time in half by waxing unwanted hair.
2.   Smooth, beautiful skin—One of the biggest perks of waxing is that your skin will feel smooth, silky, and clean. Not only do you get rid of unwanted hair when you wax, but you also eliminate dry, dead skin cells that get in the way of your skin's radiance.
3.   No cuts or irritation—Razor cuts are no joke – they're painful, annoying, and can last for a while. With waxing, you don't have to worry about nicks and cuts from a razor.
4.   Stubble-free skin—Waxing gets rid of hair completely, all the way down to the roots. The result is incredibly smooth skin that's free of rough, abrasive stubble.
5.   Slow hair re-growth—After waxing, your hair probably won't come back again for 4-6 weeks. Plus, many of our clients say their hair is finer following regrowth.
6.   Boosted confidence—Do you want to feel confident whenever you go to the pool, head out on the town, or simply sit at your office desk? Waxing can boost your confidence and help you feel great.
7.   Fewer ingrown hairs—Ingrown hairs are almost synonymous with shaving with a razor, and they can prevent you from getting the smooth, hair-free skin you want. By waxing, you reduce the risk of painful, unattractive ingrown hairs.